History of treating malaria with cannabis
Cannabis has a long history of use against diseases that cause symptoms of fever, such as cholera, rabies and tetanus. There are documented instances of use by ancient cultures including those of China and India; anthropologists have also documented traditional use which persists to this day among some African and Southeast Asian populations.
The early
Chinese
literature
makes reference
to cannabis being used as a treatment for malaria. Summarising its therapeutic properties, the
Pen T'sao Ching
states that cannabis 'clears blood and cools temperature', a reference to cannabis' ability to reduce fever.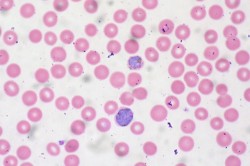 Malaria infection in the peripheral red blood cells (Ed Uthman)
In
Cambodia
, individuals infected with malaria were traditionally treated with cannabis; such use may persist to this day, in some regions. Reportedly, the smoke from one kilogram of male and female plants is inhaled twice daily until the fever has passed. Occasionally, an alternative method is employed, whereby a preparation of cannabis and water is administered orally in two-millilitre doses prior to each meal. However, this method is held to be less effective.
In Africa, cannabis is
reported
to have been used by Zimbabwean traditional healers as a remedy for malaria, as well as for blackwater fever, a potentially-fatal complication of the disease. It is believed that traditional cannabis-based medicines continue to be in use among rural populations both in Africa and in Southeast Asia.
Full article here:
http://sensiseeds.com/en/blog/cannabis-treatment-malaria/
CC: Dr
@Luther12
@Bhangi Iwe Huru
- is cannabis a wonder plant...hence its illegality..a threat to oil, pharmaceutical, paper industry ...and can lift the veil of lies