The Directorate of Criminal Investigations (DCI) has unveiled a team of nine certified examiners who will be in charge of hunting down perpetrators linked to credit card fraud and
forgery of documents.
According to a statement by DCI on Thursday, January 28, the examiners have met the global threshold required to qualify for the position.
"Nine Documents Examination experts, have this afternoon been incorporated into the DCI's Forensic Documents Examination Section.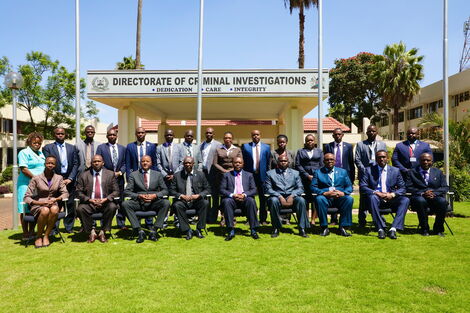 DCI's Forensic Documents Examination Section
"The nine who meet the global threshold for certified documents examiners received their certification," read part of the statement.
The DCI noted that the nine are trained experts in the examination of signatures, handwriting, and forgery of documents such as passports, visas, Identity Cards, Credit and Debit cards.
The examiners underwent rigorous training in forensic science institutions in Australia, France, India, and Sudan.
DCI boss George Kinoti urged them to exercise their work diligently to nab the
perpetrators linked to fraudulent crimes.
The move comes at a time when there has been a rise in fraudulent dealings associated with tenders and credit card schemes.
Perpetrators come up with crafty ways of forging signatures and documents to dupe the public in scams that seem legitimate.
Among those affected include the youth who mainly
fall prey
to the scams with hopes of landing their dream jobs or signing a deal of a lifetime.
The DCI in previous statements have advised the public to report fake documents to the nearest police station or write to the directorate and attach the documents.