US Labor Secretary Alex Acosta resigns over Epstein case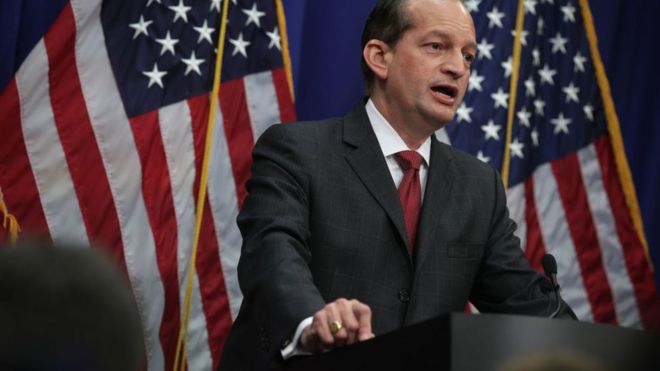 Labor Secretary Alex Acosta
US Labour Secretary Alex Acosta is resigning amid criticism of his brokering of a plea deal for financier Jeffrey Epstein in a child sex case.
Mr Acosta, a former Florida prosecutor, made the announcement from the White House Lawn on Friday, as President Donald Trump stood by his side.
Democrats had called for him to quit over his handling of the Epstein case.
Mr Acosta defended the plea deal in a press conference on Wednesday.
"I wanted to help them," Mr Acosta said of the 36 victims identified in the case against Epstein, during an hour-long press conference at the labour department earlier this week.
"That is why we intervened," he said. "And that's what the prosecutors of my office did - they insisted that he go to jail and put the world on notice that he was and is a sexual predator."