President Moi and the Ku Klux Klan

In November 1987, Kenya's three most prominent newspapers carried a bizarre story. That the KKK wanted to overthrow Moi's government. The truth is that it had all started with a much smaller, more personal tiff.

The first decade of Moi's reign had turned on its head in 1982. Initially promising, all Moi had to worry about was purging his inner circle of his political enemies. In 1982, this all turned into something else, and the hitherto promising man turned despotic faster than anyone anticipated. He became increasingly paranoid, a disease that infected the entire government machinery, and saw coup plots against him from all sides.

The design of the basement of Nyayo House, then under construction, was redone to include torture chambers. In the next few years, the chambers hosted hundreds of Kenyans and tens of foreigners. Moi saw demons everywhere, and frequently castigated foreign enemies for planning his ouster.

In 1987, focus turned to the Ku Klux Klan, America's most infamous racist organisation.

The story Kenya Times, owned by KANU, the Nation and the Standard carried was based on a letter they all published in full. The letter was written by a Kenneth A. Caswell of Foscoe Christian Church and was titled "MEMO: TO Klu (sic!) Klux Klan Members."

The 'plan,' according to this eloquently and suspiciously detailed letter, was to oust the leaders of Kenya, Tanzania, Zimbabwe (misspelled Zibabwe), and Zambia, in support of South Africa's apartheid government. They needed to raise $80 million to carry out this plan, and needed to move fast. "Our strategy is to begin with Kenya because this is where our interests are mostly at stake. Our folks there need money," it read, before concluding, quite unimaginatively, "We have to move fast for white supremacy."

The letter also mentioned "$1, 000, 000 for bribery-the only way things can be done in black Africa."

The story was a hit! For the next three days, it was covered extensively and became Moi's latest boogeyman. The operatives were, the letter read, missionaries who were working within Kenya to destabilize the government. Seven of them, rather suspiciously and carelessly (if there had indeed been a conspiracy) mentioned in the letter, were immediately detained and deported.

The Standard, in what must now look like one of its most ridiculous editorials ever, confidently said "This is not a scarecrow story or a shouting cry of Wolf!" which in fact, it was. It also added "Neither is it a piece of disinformation," which it was too.

The year before the Klan 'plot', Kenya had arrested several missionaries from Oregon and charged them with sneaking weapons into the country. The sensational stories claimed the missionaries had been arrested with "guns, uniforms, ammunition, and maps." The guns were pellet guns, and not even enough to destabilize a rat, and the 500 uniforms were school uniforms imported from a church in Oregon. The maps that 'infringed state security' had been bought from a government store in Nairobi. There was no ammunition. What made this particular incident even more controversial was that one of the missionaries, Lyle Hutson, died of a heart attack during the interrogation.

Hutson's death triggered a quick turnaround as Moi needed the US, and vice versa. The US, with socialist governments and instability in almost every other Eastern African country, needed Moi as a geopolitical ally. They also needed the harbor in Mombasa where, after a 1980 defense pact, American navy ships had been making call for 6 years. There had already been two known murders by American sailors in Mombasa that had embarrassed the US as a result of that deal.

The 1986/7 tiff with the missionary community died out for a while until the Klan plot was 'discovered.' It was a fantastic story of how American bigots wanted to overthrow a black Kenyan president, among other leaders, as support to the apartheid government. It reeked of racism and all the hallmarks of white nationalism and white supremacy but it was a complete forgery. When contacted, Caswell disowned the letter and explained that his church did not even have any missionary operations anywhere. His signature had been forged, and he didn't even recognize the writing style.

In Kenya, Moi milked the story for publicity, as did his minions. Kibaki, then Vice President said "Kenyans must expose fellow countrymen tempted to collaborate with evil foreigners in their machinations to destabilize the country." Moi went even further and claimed the latest strike by the University of Nairobi had been caused by Afrikaners. It was a good story, but one that was based on a story wholly untrue and would, in effect, lead to one of the worst moments in Kenya's diplomatic history.

The letter had been written on a paper with a letterhead from Caswell's church. If Caswell had not written it, then someone else must have, and forged his signature. The US State Department knew it was a forgery, and told their Kenyan compatriots as much. They had actually used words such as 'absurd' and 'ridiculous' which were, in this case, euphemisms for utter dumbassery.

The man the Washington Post's lens turned on was a Kenyan-born preacher named David MS Kimweli. Kimweli moved to the United States four years before the Klan story. He had a scholarship from the Johnson Bible College, and quickly proved himself a bit too ambitious and too creative with facts for a life in the church. He was ordained anyway, and began a clever ruse.

Kimweli roamed the American South, preaching in different churches and signing off letters with a curious byline. He claimed he was the president of two churches in Kenya-the Kenya Christian Evangelistic Outreach Mission, and Reach and Touch Global Ministries. None of these entities existed anywhere beyond Kimweli's signature. Still, he quoted their work in Kenya in his fundraisers, and managed to build quite a name for himself as a prolific preacher who wanted to help his people back home.

One of the churches that Kimweli preached in, for a time, was Caswell's. He was there a few times the February before the story broke, in the intervening period, a few things happened. The most serious of them was that a few missionaries actually believed him. They packed up their families and quit the jobs and booked a flight to Kenya. One of the missionaries, Paul Hamilton, sold his property in Tennessee and moved his family to Kenya on Kimweli's promise. There were, in total, seven missionaries who fell for Kimweli's ruse, the same seven who would be explicitly and suspiciously named in the letter.

All of them arrived in Kenya to find nothing of the sort existed. There were 7000 American missionaries in Kenya at the time and, with little to go back home to, all of them sought out new missions. Hamilton, however, was incensed. He reported the dodgy Kenyan pastor to the US Embassy and wrote to the pastors back home. In one letter, he said "Now the real problem is that Kimweli is applying pressure in Kenya to shut up the people over here." And indeed he was, and quite creatively.

The KKK letter mentioned Hamilton and his wife as "Stationed in Thika, only about 20 miles from Nairobi, among natives who are dissatisfied with the present governments. They have had great successes. They used the funds to bribe the government officials and also to equip themselves with automobiles, computers and telephones." It wasn't just a description, it was a proper map to their new home and enough circumstantial evidence to suit an already paranoid government.

It didn't matter that the obvious typo on the header of the letter, and the rather awkward writing style were obvious pointers to a forgery. The plan quite conveniently solved both Moi's and Kimeli's purposes. It was a good story, and Moi was never one to miss a good boogeyman story.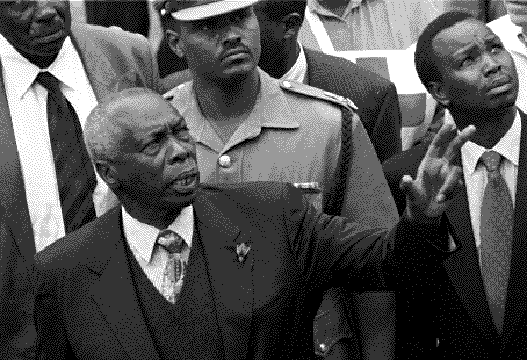 You see that? We stopped the Martians too! Dumbasses!

All seven of the missionaries mentioned in the letter were detained and deported. Another group of 8 Americans and one Canadian were arrested and given a week to leave the country, only to then be told to stay. The silence meant Moi had won against whatever the Klan demons had been plotting against his rule, and he quickly went back to his purge at home. Only it wasn't over.

At around the same time Kimweli had been in Caswell's church, a businessman called Peter Njenga Karanja had been arrested in Kenya while on his way to the bank. He was suspected to be a member of Mwakenya, a clandestine Marxist radical group that was Moi's primary boogeyman. Karanja was beaten and tortured for three weeks. On February 26th, three police officers took him to Kenyatta Hospital with septic ulcers all over his body. He died two days later in what became a primary case for Amnesty International. The causes of death were later officially ruled as pneumonia and intestinal gangrene.

In early 1988, months after the KKK plot and a year after Karanja died, an inquest into his death began in Nairobi. Among the first observers of the case were two Americans who arrived in Kenya the day before the inquest started. The two, retired federal judge Marvin Frankel and medical examiner Robert H. Kirschner, disappeared from the courtroom on the first day. The US Embassy, then based on Haile Selassie Avenue, panicked and immediately launched a manhunt for the two in Nairobi. Initial intelligence showed they had been arrested, transported to a police station where they were detained for a night, and then moved to the infamous Nyayo House torture chambers.

In an interview in 1996, America's ambassador to Kenya in 1987 Elinor Constable confessed she had called the Minister for Foreign Affairs, Zachary Onyonka and threatened war if they hurt the judge. "I don't give a damn what you guys publish in your stupid newspapers. But if you touch one American citizen, its war, I will pull out the stops here. You will be sorry." The threat went up the chain and Frankel and Kirschner were released and immediately deported.

In his interactions with US diplomats, Moi completely disowned the arrest of the judge and claimed that it had been the work of an overzealous security officer. It was most likely true he hadn't explicitly ordered the arrest of the judge and the medical examiner but Kenya was already a country in paranoia. The Klan was a boogeyman to be quoted whenever it seemed there was pressure from the United States, and someone, perhaps too eager for a promotion, had taken it too far.

The claims that the Klan was plotting to overthrow Moi were revived again in 1995 when Richard Leakey and Paul Muite formed Safina Party. It wasn't as big a story this time, perhaps because there was no letter to ride on. Leakey would be accused of almost everything else, including being a devil worshiper (he is an avowed atheist).

The Klan story represents one of the lowest moments in Kenya's diplomatic history. At the first turn, in 1991, with Museveni finally bringing stability to Uganda and the socialist governments of Ethiopia and Somalia toppled, the US led other donors in forcing Moi's hand. All the things they had ignored for a decade suddenly became the bargaining chips. He relented, allowing multiparty-ism and releasing, albeit after a prolonged protest by a group of brave women, most of the political prisoners he had spent a decade detaining.

Moi moved on to his next boogeymen, real or imagined such as devil worship in 1994.
C&P from one of the best Kenyan blogs around Owaahh.com
http://owaahh.com/moi-ku-klux-klan/
Last edited: