Private Schools are seeking Kenyan taxpayers to chip in and help them offset loans totalling Ksh14 billion accrued in the wake of
the Covid-19 pandemic.
Data provided by Kenya Private Schools Association (KPSA) has revealed that the institutions borrowed the funds for the period leading up to December 2020.
KPSA chief executive officer Peter Ndoro stated that the institutions turned to banks after the government went silent on a Ksh7 billion stimulus package it had promised. The money was to cushion private schools in the country against the adversities of the pandemic.
Kenya Private Schools Association (KPSA) CEO Peter Ndoro
"Even whatever the banks are giving us is not sufficient because they are not sure whether our businesses will rebound and get back to normal," Ndoro stated.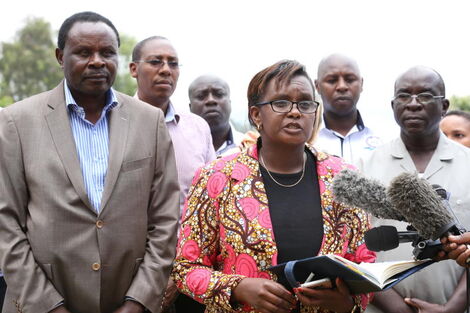 The Kenya Private School Association National Chairperson Mutheu Kasanga (center) and other members address the press.
"Private schools have had to borrow Ksh14 billion from commercial sources for the period between May to December 3," KPSA CEO Ndoro stated.
He challenged the government to leave up to its promise and offer monetary relief to the institutions which play a critical role in the delivery of quality education.
The National Government had in August 2020 promised
the stimulus package
, assuring the school heads that the loans would be repaid on friendlier terms. In the absence of the funds, the schools sought refuge in banks, which they say offered the loans at tougher conditions.
Some schools sought loans to service rent areas, as to keep their premises.
Education Cabinet Secretary George Magoha at a school in Nyeri
Ndoro argued that like public institutions, the private schools too had to install Coid-19 preventive measures in schools. Handwashing points, sanitisers, and the need to expand on infrastructure, Ndor says, demanded that the schools seek alternative funding sources.
Following the resumption of schools, a number of private institutions in the country have increased tuition fees and some other charges as, transport fees so as to sustain themselves.
KPSA stated that the increase in transport fees was due to the high fuel prices and maintenance cost resulting in additional trips, as schools adhere to social distancing in the fight against Covid-19.
Since the start of the pandemic, KPSA had announced that
over 300 schools had shut down
, forcing the more than 65,600 learners and close to 1,200 teachers to seek alternative institutions.