Naivasha is turning into the next hub of business in Kenya following the completion of the SGR extension to Longonot, expansion of the Nairobi-Nakuru highway among other projects. There is also the Inland Container Depot (ICD) set to provide hundreds if not thousands of job opportunities for Kenyans.
Transport and Infrastructure Cabinet Secretary James Macharia said, "We have a special economic zone that is being planned here and will employ thousands of our youth."
Investors have also shown interest in the newly gazetted 1,000 acres in Mai Mahiu where the
Special Economic Zone
will be located.
The gazettement was meant to stop the construction of informal settlements and unplanned structures around the multi-billion shillings Inland Container Depot project.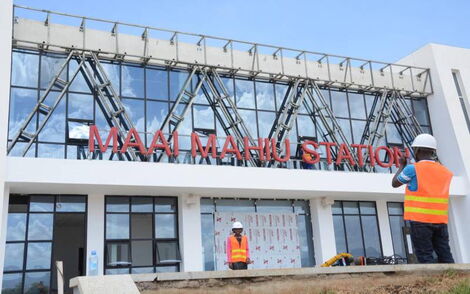 An image showing the Mai Mahiu SGR terminus
Nakuru Governor Lee Kinyanjui noted that the collection of cargo from the ICD has already boosted business within Mai Mahiu and the surrounding areas, attracting job opportunities in the process.
He also pointed out that the 28-kilometer extension of the new railway line from Mai Mahiu SGR station to Longonot would boost transport services in the area.
"The county is working hand in hand with local investors to ensure they benefit from the 50 acres donated by the government around the industrial park," added Kinyanjui.
Cargo being offloaded at Naivasha Inland Cargo Port
He also spoke on the plans to duel the
Nairobi-Mau Summit road
to reduce congestion on the highway. This project is estimated to cost Ksh160 billion and is part of the 175-kilometer upgrade which will start at Rironi, proceed to Nakuru town, and terminate at the Mau Summit.
The Nakuru Governor also said that the county had invited bidders for business proposals on the donated land, saying that local investors will be prioritized.
Also targeting the transport sector in Naivasha is the newly opened Isuzu Kenya service outlet. This move by Isuzu also targets the floriculture and hospitality industries.
Recently,
motorists using the Nakuru-Nairobi highway
were said to pay toll fees for up to 30 years once its dual upgrade is completed
.
The Kenya National Highways Authority (KeNHA) disclosed that a private investor who was contracted for the project will set up toll stations where motorists will pay for using the road.