Mandago's Vision Praised on European Newspaper
Uasin Gishu Governor Jackson Kiplagat Mandago's
vision was praised in the top European
newspaper on Tuesday, August 17.
Mandago was featured by Finland's top newspaper,
Aamulehti,
after successfully securing scholarships and job opportunities for youth from his county.
The deal signed between Uasin Gishu County Government and Finland, will see the devolved unit send 51 students in September to go and pursue Nursing at Tampere University of Applied Sciences.
Uasin Gishu Governor Jackson Mandago
The same number secured a slot for the next enrolment set for January 2022.
Mandago is targeting more than 300
students to have gone to Finland before his term ends.
The county also entered into an agreement with Tampere City which will pave way for the students to be offered part-time jobs as they learn, to enable them to cater for their fees and other personal needs.
Mandago also secured the first scholarship for Uasin Gishu students in 2020 where 25 students were picked to go to Finland.
They were picked after a suitability test conducted by a Finnish University at the Kenya Medical Training College (KMTC) but they were supposed to cater for their own expenses.
The Governor congratulated the students for successfully going through the selection process noting that they were the first cohort students from Uasin Gishu.
"You are the pioneers of this partnership and I want you to go to Finland and do our county and your parents proud. This will pave way for other students who will come after you. Please be our good ambassador," he stated.
MaxGlobal Group CEO Cornelius Kiplagat was instrumental in brokering the partnership between Uasin Gishu and Tampere University.
Kiplagat argued that Finland had the best education system in the world that
attracts students from superpowers
like the United States and the United Kingdom.
"I must warn you that you have to take your studies seriously. If you mess around, you will be discontinued and deported back home. Finland has strict systems and you should not disregard them," he stated during the official announcement of the first beneficiaries of the program.
Meanwhile.....
A GEMA Idiot Bishop Climate Irungu Wiseman was on Monday, August 16, charged at a London court, United Kingdom, for
selling a fake cure for
Covid-19.
Irungu appeared before the Lavender Hill Magistrates' Court where he responded to charges levelled against him by the prosecution.
Wiseman is charged with fraud and unfair trading offences.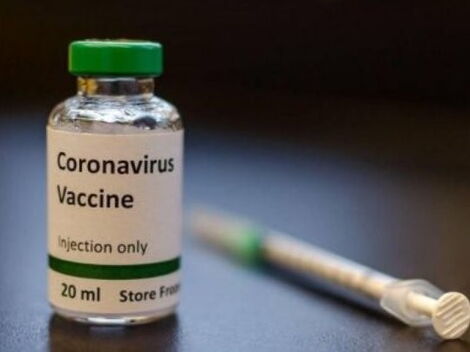 A medicine vial labelled coronavirus vaccine.
He stands accused of packaging and selling a concoction that he presented to unsuspecting members of his church
as a cure for the coronavirus
.
Wiseman packaged a mixture of cedarwood and hyssop in a small bottle as a small bottle and a piece of red yarn which he sold as a "plague protection kit".
Plague protection oil advertised by Bishop Climate Ministries
He claimed that it could be used to treat, prevent, protect against or cure the virus. The religious leader sold each kit for Ksh13,671 (£91 ).
The head of the Kingdom Church in Camberwell allegedly made the claims in person, online, in instructional videos and through testimonial videos.
Prosecutor Ryan Thompson disclosed that investigations revealed that the Kenyan had his followers in the UK that the oil had cured 10 people.
He further stated that the oil posed a
risk of harm and even death
to those who had bought it.
Wiseman's lawyer argued that the case involved the freedom to practise religion. His client pleaded not guilty to the charge of fraud and two other charges.
The case was sent to the Inner London Crown Court and will be heard on September 13, 2021.
Gakuta James
Seriously. Don't export these fake cures and "miracles" to places where people are not as gullible and where laws exist to protect the public.
Hii ungecheza tu hapa Kenya, by now you'd have been smiling all the way to the bank.
Last edited: