Professor Makau Mutua has clashed with Kenya Film Classification Board (KFCB) CEO Ezekiel Mutua over a bill fronted by Garissa Township MP Aden Duale. Mutua was not impressed with a
bill proposing a 25-year jail term
for individuals who share pornographic materials arguing that it would turn the country into a religious state.
The professor further argued that the proposed law, which also called for an alternative Ksh20 million fine for perpetrators was an attack on free speech which is guaranteed by the country's Constitution.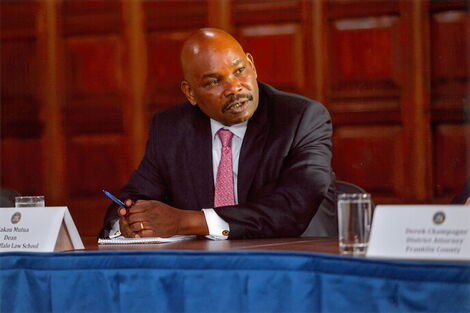 Professor Makau Mutua at a past event.
"The likes of Duale and Ezekiel Mutua must get it in their noggin that Kenya isn't a mosque or church. It's a secular state governed under secular — not religious — law. Criminalizing pornography is Neanderthal legal paganism. The law is an attack on free speech," stated Mutua.
Mutua, the Kenya Film Classification Board (KFCB) CEO was, however, not impressed by Makau's take of the bill.
Ezekiel argued that the bill was timely to protect Kenya's moral fabric of the family by sieving information individuals can share on social media.
"Professor Mutua (not related to Ezekiel) is of the opinion that the thinking behind the bill is an affront to free speech and an attempt to make Kenya a religious state. Nothing can be further from the truth!
"The Duale proposed bill is a very timely move to tame the madness in social media and the misuse of the internet to offend public decency. We have degenerated into unprecedented immoral behavior in the name of freedom," argued Ezekiel.
He further noted that KFCB, in 2020, received over 1,000 written petitions from the Pro-Family Group and CitizenGo to shut down porn sites that were being used to promote indecency, pedophilia, and adult content on platforms likely to be accessed by children.
"It's gratifying to see that Hon. Duale has captured our views and sponsored the Bill on the amendments to the Computer Misuse and Cybercrime to capture the wanton eccentricities of sharing pornographic images in public, especially on social media or in the form of art.
"Freedom of expression must not be a carte blanche for indecency and immorality. Internet must not be a platform for violating public decency and culture," he added.
The bill sparked mixed reactions from individuals and organizations across the country.
In a statement, Atheists in Kenya Society accused Duale of allegedly invoking religious bias in the bill criminalizing pornography.
Society's President Harrison Mumia argued that
criminalizing pornography
would only cause a boom in the pirated content industry.
The bill also seeks to block access to offensive websites in the country.
"A person shall not knowingly publish pornography through a computer system, produce pornography for the purpose of its publication through a computer system, download, distribute, circulate, sell or make it available in any way from a telecommunications apparatus pornography," warned the bill.