The Covid-19 pandemic has seen a surge in the number of Kenyans opting for quick loans from digital lenders, resulting in losses running in the millions.
According to data released by the Central Bank of Kenya (CBK) individuals and businesses increased the use of personal assets to access credit.
Kenyans used personal assets to borrow Ksh26.8 Billion
between July to November 2020 compared to Ksh1.7 Billion borrowed in the previous quarter.
At the onset of then crisis, a huge portion of the population were ill-prepared financially to weather a prolonged income shock.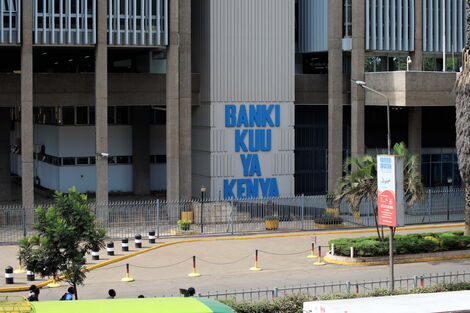 Central Bank of Kenya (CBK) building in Nairobi.
This is what led many Kenyans to take loans with unregulated lenders available on mobile platforms, only to end up in a vicious debt cycle that has seen some sell their prized assets to service the loans.
James Mwate, a teacher based in Nanyuki detailed how a Ksh40,000 loan plunged him into a Ksh168,000 debt.
"I was forced to go to these mobile loan apps as my situation became dire following the closure of schools. I borrowed Ksh40,000 just to cover home expenses.
"We settled on a 84-month repayment period of Ksh1,400 each month. However, this did not include hidden charges that I came to learn about later such as insurance and settlement fees. I was desperate but after calculating what I'll end up paying when the 84 months are up, it totals to Ksh168,000," he explained.
His story has been narrated by thousands of Kenyans who opted for the easy-to-access mobile loans, with some confessing to having lost cars due to defaults.
In 2020, more than
3.2 million Kenyans were listed as loan defaulters
in an economy that was characterised by mass layoffs.
The
public outcry pushed CBK to step in
, with Governor Patrick Njoroge barring 337 unregulated digital mobile lenders from forwarding names of loan defaulters to Credit Reference Bureaus (CRBs)
Central Bank of Kenya Governor Patrick Njoroge during a press conference in Nairobi
"The withdrawal is in response to numerous public complaints over misuse of the Credit Information Sharing (CIS) by unregulated digital and credit-only lenders, and particularly their poor response to customer complaints," read a statement issued by the CBK.
In June 2020, Bonchari MP Oroo Oyioka drafted the Central Bank of Kenya (Amendment) Bill, 2020, seeking to mandate the CBK with regulating the conduct of providers of digital financial products and services.
If passed by Parliament, Governor Njoroge's new mandate will include; regulating and supervising the conduct of providers of digital financial products and services, and regulating and supervising the conduct of digital credit providers and digital credit service providers.
The CBK Governor recently revealed that he was hoping the Bill would be passed in December 2020, before the legislators went into recess, but he is now forced to wait until February 2021 when the Parliament resumes.