Your guy says he worked very hard like a "galley slave" to achieve his $200 billion net worth.
Today he has dozens of palaces, everywhere. Yatchs, hundreds of limos, his own private army, you name it... Putin has it!!
This in a country largely populated by poor people. A majority of whom are more or less homeless.
First off is a message from the Chairman of the residents of La Zagaleta Spain who is a former head of UBS bank and Credit Suisse.
Yaani billionare thug from 2008 financial crisis :
Videos of a few Yatchs seen around the area after Putin became a home owner :
Now to the €55 million palace itself.
President Putins Mansion in La Zagaleta South of Spain
March 2, 2018 in
Agent4Stars
With beautifully manicured land, large gardens,
stables
, club houses and 24 hour security, many of the rich and famous have chosen
la Zagaleta as a residence.Will you ?
(Information about La Zagaleta the luxurious resort near Marbella. … Horse owning resident may stable their own horses in the club's facilities.)
Putin's Mansion :
Panoramic views to sea, coastline, Gibraltar & Africa.
Maybe the most valuable Mansion in La Zagaleta (minimum €55million)
Main entry parking for
+100 cars !
From Daily Mail
25 vines from the top Burgos-based Bodega 'Pingus' – some 500 miles from the Costa del Sol – to be planted into a series of sun-soaked terraces surrounding his new mansion high in the Marbella Hills.
The Russian President is understood to have hired the famous Valladolid province vineyard owner – Danish oenologist Peter Sisseck – to oversee both the production of the grapes and the later bottling process.
Putin's mansion is set on a plot of land totalling more than 18,000 square metres.
Pingus is described as a 'cult wine' which can be sold at extremely high prices after the vines are cultivated without the use of either fertiliser or pesticides.
Single vintage bottles can demand prices in excess of £750.
Following a carefully controlled harvest, Putin's version of the wine is set to be produced in two huge underground cellars at the ten-bedroom mansion he bought two years ago and which has since seen vast redevelopment.
Putin's grand home is on the exclusive and gated La Zagaleta estate and boasts a private helipad and garage capable of housing more than
22 vehicles
.
The wine he will produce would be stored in French oak barrels within two specially acclimatised cellars which cost an estimated £750,000 to install.
More than two years ago it was revealed that former KGB boss Putin was linked to a consortium of six wealthy businessmen helping to back and fund the wealthy Club de Campo La Zagaleta project.
President Putin's Spanish home is just a forty minute drive to the newly refurbished Malaga airport which now offers direct flights to Moscow.
The extravagant residential estate has a plot of land totalling more than 18,000 square metres and is 400 metres above sea level and less than eight miles from the Costa beaches.
The 'Club' environment – including homes owned by the former Mayor of Moscow Yuri Luzhkov and a nearby property belonging to Rod Stewart – boasts a spa, two golf courses, a cinema, piano bar and a number of swimming pools.
Putin´s new Mansion in La Zagaleta is being build on a private hilltop, here you can see the old home that is now demolished.
Above as the Mansion was ,underneath the finished Property.Which have a
estimated salesprice of €35million.
Developed by the Bolt Property Group, the home was purchased from late British computer mogul Alan Sharam.
4,400m² interior and 18.000m2 plot. ten bedroom on 3 levels
The original Project
La Roca del Rey
( The Kings Rock ) has been changed quite a bit.
It has many inspired features from a formal piano bar to a double-height wood-paneled library. The lower storey houses a generous 15m x 6m heated swimming pool with separate Jacuzzi and fully-equipped Spa with fitness facility whilst a home cinema sits alongside a wine cellar with a contemporary twist complete with its own champagne bar.
The Mansion is being built on order for President Putin and should be finished in 2014.
Its expected many of Putin´s friends and a business associates have or will buy in the neighborhood too.The La Zagaleta Golf and Country Club is set in 900 Hectares of beautiful, mountainous Andalucian countryside. The site is patrolled 24 hours per day and all the owners have peace of mind when they leave their property alone.
https://www.facebook.com/pg/BillionairesCCP/photos/?tab=album&album_id=1584329775022063
Moscow's former mayor Yuri Luzhkov wife also owns a luxury property in La Zagaleta. Luzhkov wants to build something similar for himself, but on the coast of Morocco.
Putin is recently divorced from his wife Lyudmila Shkrebneva and they have two daughters, Mariya Putina (born 28 April 1985 in Leningrad, Soviet Union) and Yekaterina Putina (born 31 August 1986 in Dresden, East Germany). The daughters grew up in East Germany and attended the German School in Moscow until his appointment as Prime Minister.
Russian President Vladimir V. Putin who is rumored to be among the world's wealthiest men
, with a fortune worth tens of billions, which he of-course denies. Born in a middle class Soviet family, Putin who also once compared ruling Russia to being a 'galley slave' reportedly lives a 'king-size' lifestyle with access to Presidential perks including four grand yachts, 20 homes with opulent fittings, 58 aircrafts with one Russian-made Ilyushin Presidential jet with a $75,000 toilet, not to forget Putin's ultra-expensive watch collection worth $700,000.
"I have worked like a galley slave throughout these eight years, morning till night," said President Putin to media in 2008. However, the $2.5 billion a year lifestyle unraveled in the report titled 'The Life of Galley Slave' by the opposition parties says otherwise.
This alleged Russian President has a total of 20 palatial residences (in 2008 lakini leo ni zaidi), including the recent mysterious $950 million outlandish Italianate palace located on the Black Sea coast. Other palaces include Constantine Palace, a Czarist-era estate on the Gulf of Finland, a ski lodge in the Caucasus Mountains, and a Gothic revival palace in the Moscow region, to name a few.
And, President Putin's fleet of 58 aircrafts include 15 helicopters, along with 43 other aircrafts, including two Dassault Falcon executive jets, an Airbus, and an Ilyushin Il-96 airliner that features an $18-million cabin fitted out by jewelers from the monastery town of Sergiyev Posad, and a $75,000 toilet.
And, the President's road commuting is handled by a fleet of some 700 ultra-luxurious vehicles, including some of the world's most expensive cars.
Further, out of the four luxury yachts, one was a 'gift' from an affluent Russian billionaire, and the other 53.7-metre yacht comes with a designer interior, a spa pool, wine cellar and waterfall.
The La Zagaleta estate in the Costa Del Sol region of Spain is home to some of the most influential business people in Europe.
The La Zagaleta Golf and Country Club is set in 900 Hectares of beautiful, mountainous Andalucian countryside.
The site was originally owned by Henry Roussell, Father to Thierry Roussell the husband of Cristina Onassis.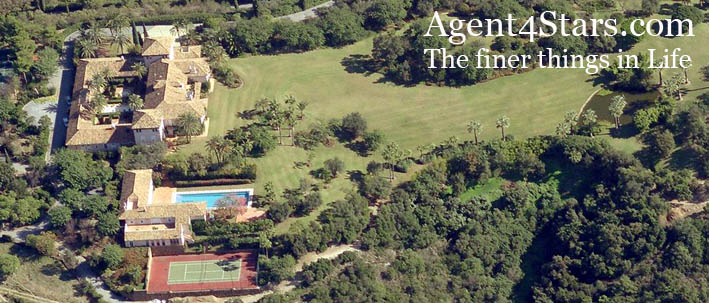 The Mansion have a large Swimming pool (with a large R=Roussell) and Tennis court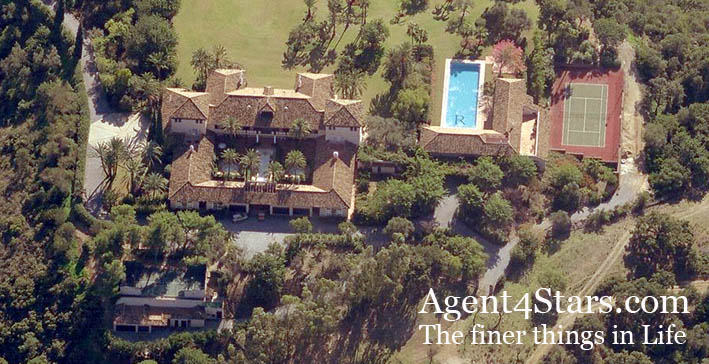 Athina Onassis de Miranda with AD Crosshill, CSI 5* horse show Hamburg 2011 Born January 28, 1985 (age 28) Neuilly-sur-Seine, France Occupation Equestrian athlete Owner, AD Sport Horses Spouse(s) Álvaro Affonso de Miranda Neto(2005–present) Parents Thierry Roussel Christina Onassis
Athina Onassis de Miranda
(born January 28, 1985) is a French heiress, the only surviving descendant of Aristotle Onassis, the Greek shipping magnate.
She is sole heir to her late mother, who inherited about half the fortune of Aristotle Onassis. The other half was left to the Alexander S. Onassis Public Benefit Foundation. The two halves of the fortune are separately managed. Despite keen investigation by the media, the extent of Roussel's wealth remains unknown.
Roussel married Brazilian Olympic showjumper Alvaro de Miranda Neto in 2005. She is a competition showjumper in her own right, under the name Athina Onassis de Miranda.
After Henry Roussell the estate was purchased by Adnan Khashoggi, one time worlds richest man and Billionaire.
Further details here.
http://www.agent4stars.com/presiden...-spain-build-on-private-hilltop/#.XTLIR0ZRU0M
The estate has undoubtedly one of the best golf courses on the planet.