Rethinking how we use wheels can address many of our most pressing urban challenges.
​
"It's very important to be efficient with space when designing for urban environments," explains industrial designer Ian McGillivray. "Get rid of the cars in a city and you have much more space."
Open space – or a lack of it – is a common challenge among cities worldwide. And it is an ongoing issue. With more than half the world's population living in cities, and with this proportion set to
reach two-thirds by 2050
, congestion, pollution and overcrowding are foremost concerns among urban planners.
Exasperating this challenge is population growth. A further 2.5 billion people will inhabit the Earth within three decades, increasing the world's population to
almost 10 billion
. Moreover, a further two billion people will enter the middle-class demographic – and most will
live in urban environments
.
This growth will add unprecedented stress on city resources and public transport will be strained. A growing numbers of cars, trucks and buses will create yet more traffic congestion. Not only will this limit the movement of goods and people, it will also impact economies, with up to 4 per cent of global GDP currently lost to congestion.
What cities need, asserts McGillivray, are systems that make "quick travel and commuting possible for everyone".
Innovation calling
Overcoming these challenges will require multiple solutions. Chief among these is mobility innovation – reinventing how people and vehicles move from one place to another.
It is in this light that the world's fastest growing tire company, Hankook Tire, established the Hankook's Design Innovation 2016 Award – a competition that encourages design students to create futuristic yet realistic concept tires for future mobility.
One of four winners, McGillivray acknowledges the array of mobility issues cities face. Yet he is upbeat about the impact new ideas could have in countering these.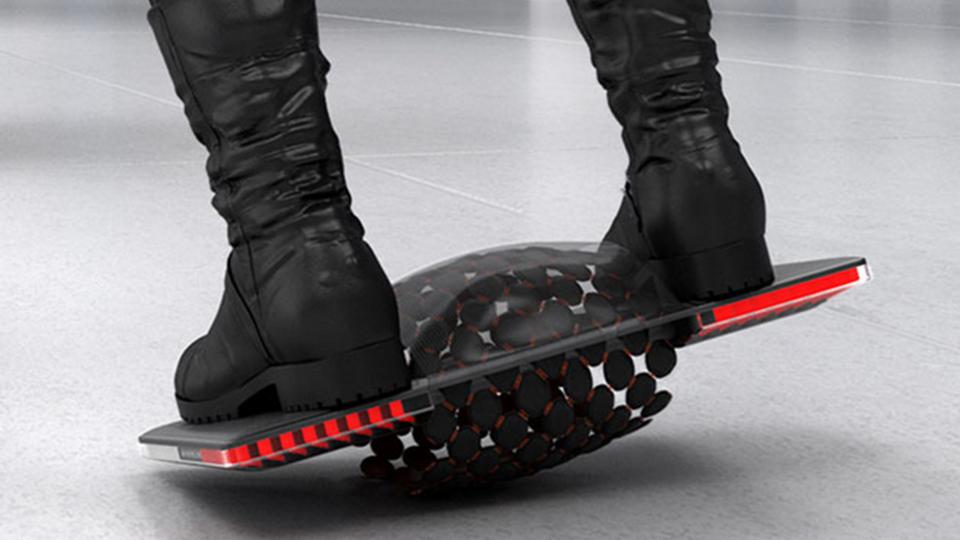 McGillivray's solution, the Magfloat, is a space-saving, single-tire personal transit system, which is stored underground to provide on-call transportation. "It uses several technologies that are very, very new and when they are combined, they create a revolutionary new concept," he enthuses.
Constructed of shock-resistant polycarbonate and low-weight aluminum, the board bears similarities to other personal mobility devices, such as the hoverboard and skateboard. It has three modes: flat for storage; half-activation for speeds of up to 12mph; and full-activation of the wheel for speeds of between 13mph and 25mph. Lights on either side of the board are used for night travel, and for notifying pedestrians and other forms of transport. A clear plastic panel covering the top of the wheel bends when the wheel is fully activated for safety, and remains flat at lower speeds for a more leisurely ride.
"Parking is difficult in cities, so having devices that store easily will make people's lives much easier," McGillivray's adds.
New rules of the game
For thousands of years, the wheel has moved people and goods forwards and backwards, and across flat or sloped surfaces. Yet new technologies are allowing wheels to move in a sideward manner and across more dynamic terrain.
Vehicle designer Cameron Bresn envisaged a tire that could move laterally but without changing the direction of the wheel. Inspiration for his Shiftrac concept came from unusual sources.
"I looked at the way certain animals move in the wild, like starfish and snakes, and tried to translate that motion into a vehicle tire," says Bresn. "But ultimately I was inspired by the motion that humans use when they are ice skating around corners by stepping over their previous step to maximise lateral motion."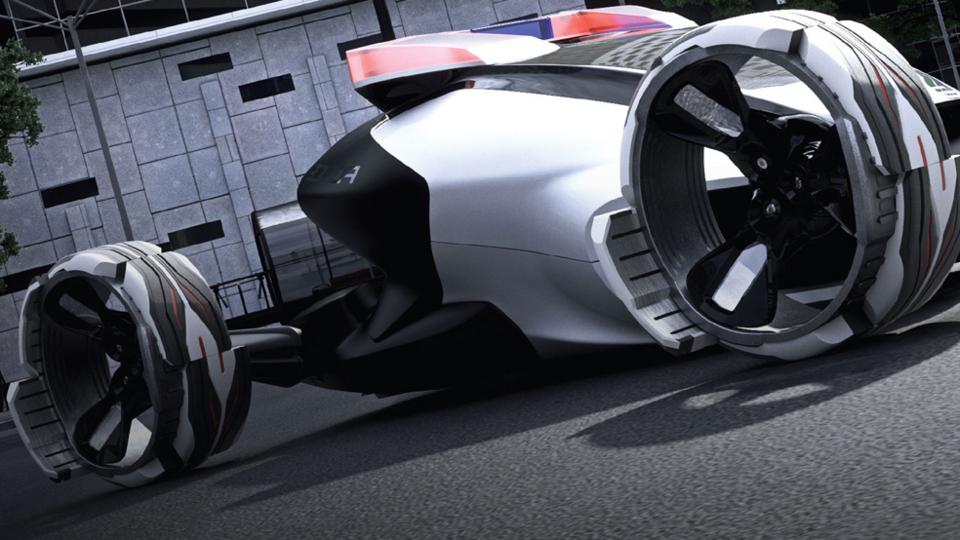 Bresn's design is for cities characterised by autonomous vehicles and increased congestion. It allows vehicles to navigate quickly and efficiently through crowded streets while maintaining a high level of control – traits notably needed by emergency services vehicles.
Likewise, a more dynamic urban environment inspired industrial designer Hayden Lapiska to create the Flexup: "Normally structures such as curbs, stairs and other city features force commuters to dismount and carry their small vehicle, but this wheel allows the user to just roll over these obstacles."
Lapiska's concept uses scissor arms that are actuated along electromagnetic rails; these extend or retract track segments to accommodate the surface the wheel is trying to traverse. The design replaces suspension by forming to the surface and levering over any obstacles.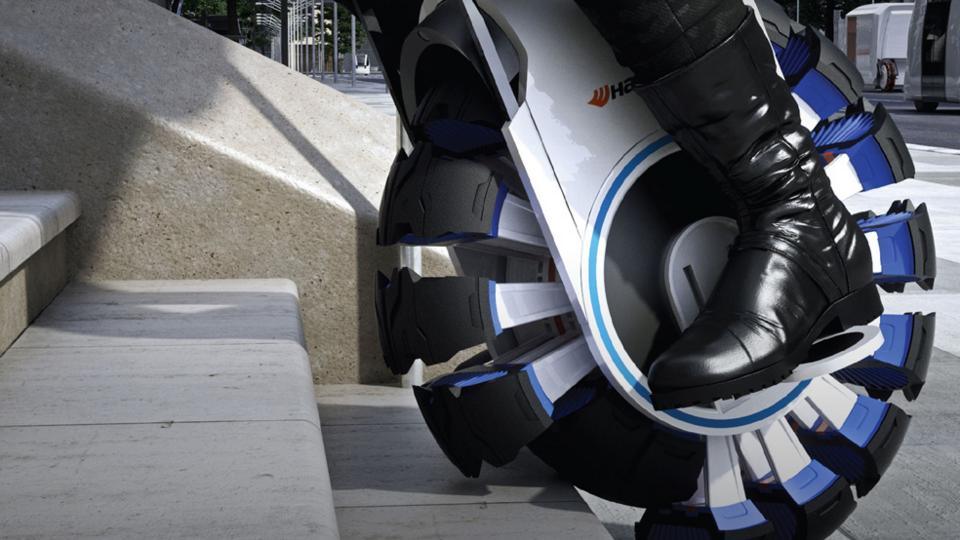 "The scissor arms needed space and the segments needed to interlock in a way that would not cause a bumpy ride when retracted or extended," says Lapiska, recalling the development process. "There was a lot of experimenting and measuring to make sure everything would fit properly."
Future-ready technologies
A common challenge for cities worldwide is balancing rush-hour with off-peak travel demand: transport networks lie idle for most of the day yet are stretched for a mere few hours.
To meet this challenge, industrial designer John Piper created the Autobine, an autonomous mass transit system that leverages smart bus stations, autonomous buses that expand and contract according to demand, and drones – or smart wheels.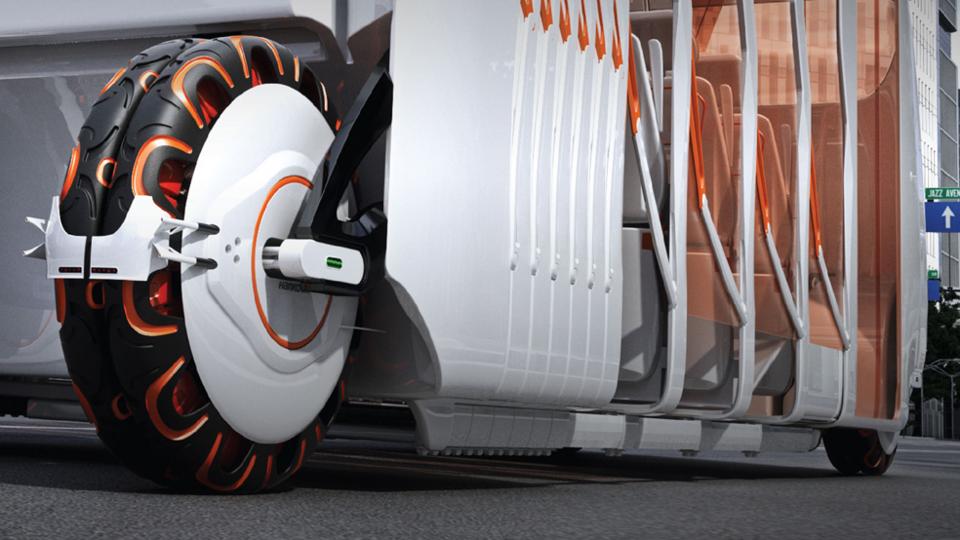 "The challenge was developing solutions that were incorporated into the tire itself and not the vehicle," says Piper. "To overcome this, I had to think very critically about how I address the needs of the system such as how the drones turn and stop."
Inspiration came from the horse-drawn chariot where teams of horses work together to pull heavy wagons. The greater the load, the more horses are needed. The same principle is applied to the Autobine, where the more passengers there are aboard the vehicle, the more drones are deployed to power the vehicle. The design leverages Internet of Things technology, where the number of passengers waiting for a bus is communicated to the vehicle, and in turn, drones leave a storage facility and join the bus accordingly.
The above designs emphasise the importance of tire innovation in meeting our most pressing urban challenges. They also highlight how tires can plays a significant role in advancing sustainable mobility solutions.
"Tires that are able to do more, such as act as a full suspension, will be critical in the pursuit of lowering a vehicle's overall weight for fuel economy, and ensuring that future mobility systems meet the needs of tomorrow's cities," adds Piper.
To get more inspiration on future mobility, visit the 67th International Motor Show (IAA), which will be held from 14 to 24 September in Frankfurt, Germany.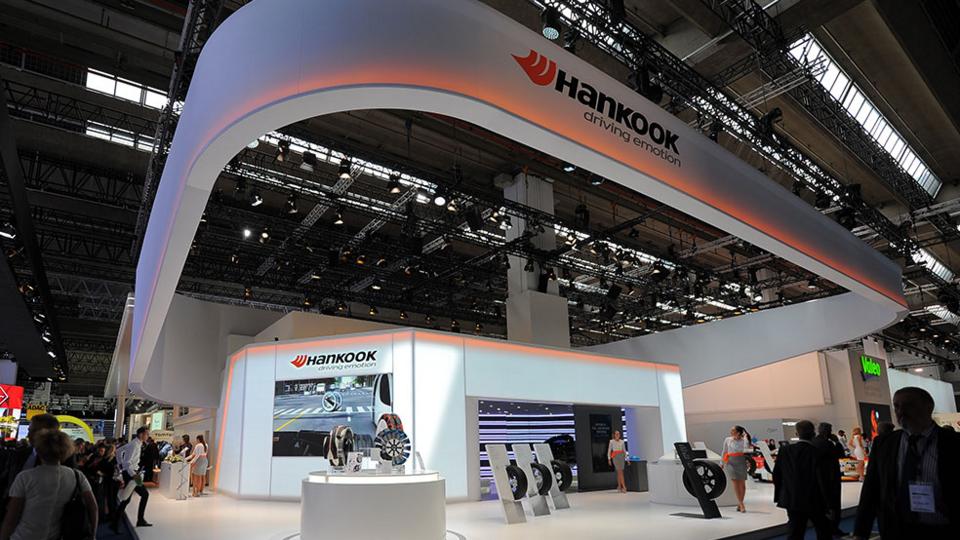 http://www.bbc.com/storyworks/future/innovation-in-motion/reinventing-the-wheel