Uruguay
was going toe-to-toe with Copa America hosts
Chile
in their quarterfinal contest on Wednesday evening inside a raucous, hostile Estadio Nacional in Santiago.
And then it all went to hell.
Striker
Edinson Cavani
was shown a second yellow card in the 63rd minute after an altercation with defender
Gonzalo Jara
, when it looked as though the physical striker made contact with the Chilean's face.
Why was the Uruguayan striker so incensed? Was it the fact that Jara's chin was barely grazed before hitting the turf after the most delayed reaction in football history?
That would be a legitimate gripe, but no.
The real reason, you see, was that Cavani had simply been reacting to the fact that Jara got away with slyly sticking his fingers between his buttocks ...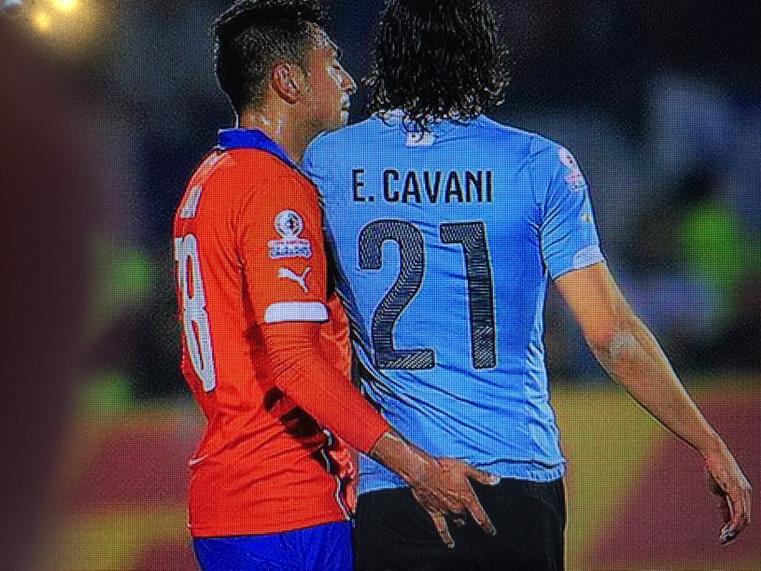 What F*ckery??
Kwanini msee adeceide kuingiza msee mwingine kidole kwa rasa.
Mimi naweza KATA KATA YEYE... Priss.
I remember i beat up a homo kwa loo ya pub flani tao ju ya kunipeep nikinyora kwa loo.Imagine ni kidole..Murder case
But kina
@Njamba Huthu
hapa ndio wanafurahi
Experience za unwanted/uncomfortable touches/situations zicome staring with the ladies
@Purr_27
@Supu don
@aviator
@Unicorn
@Lola-
@msalame grace
na maboy wangu wasaidie
@kabuda
@nairobilay
@Web Dev
@Wakanyama
etc
Last edited by a moderator: