Sasa nini hii? These wazungus bana... asha.. The lesbian new zealander is enough!
Ireland's Prime Minister Shows Up With His Boyfriend At Mike Pence's House
The vice president of the United States invited Irish Prime Minister Leo Varadkar to bring his partner, Dr. Matt Barrett.
By
Sanjana Karanth
Irish Prime Minister Leo Varadkar met for breakfast with U.S. Vice President Mike Pence on Thursday, but not without bringing his boyfriend along.
Varadkar, Ireland's first openly gay leader, tweeted about the breakfast held at Pence's home in Washington, saying "it's great to be back here for a really warm reception."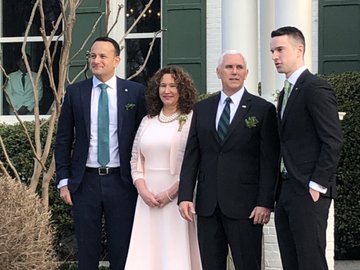 Pence, a conservative Christian, has a vast history of anti-LGBTQ remarks and positions against same-sex marriage. While governor of Indiana in 2015, he signed a "religious freedom" law that allowed businesses to refuse services to LGBTQ customers. When he successfully ran for a House seat 19 years ago,
his campaign website
suggested he supported gay "conversion" therapy.
He also once said to Congress
that "societal collapse was always brought about following an advent of the deterioration of marriage and family."​
So, naturally, the irony of Varadkar bringing his partner, Dr. Matthew Barrett, was not unnoticed by Twitter.