Popular
Mother-in-Law actress
Faith Nyaga aka Lisa got married to the love of her life in an exclusive ceremony on Friday, December 11, 2020.
The event featured media celebs such as Cathrine Kamau aka Kate Actress, Timothy Kimani aka Njugush and Abel Mutua's wife Judy Nyawira.
Sources in Nyaga's circle say that her white lace gown cost Ksh 100,000.
The wedding was held at an exclusive location in Nairobi which attendees were unwilling to reveal.
The ceremony was kept under wraps, with one of the actors who is in a WhatsApp group with Nyaga saying, "We just saw photos on WhatsApp".
Photos of Faith's husband were also not made public, with the couple preferring to hide his identity.
The actress had held a bridal shower on Sunday in an
all-white ceremony
attended by her close friends.
Wedding planners and suppliers in Kenya cash in on ceremonies where couples spare no expense.
A report by Samantha Bridal, one of Kenya's leading wedding media and lifestyle companies, stated that weddings generate an average of Ksh30 billion every year.
Some of the largest expenses are incurred in booking locations, gowns, decoration, tents and
VIP transport
.
Simon Kimani of Reliable Vehicle Rentals in Nairobi said that VIP vehicles such as Toyota Land Cruisers or Prados can go for as much as Ksh 15,000 per day including fuel and chauffeur costs. More luxurious models like Range Rovers and Mercedes Benzs go for more than Ksh 20,000 while budget cars fetch Ksh 7,000 a day each.
Locations such as St Francis Karen cost Ksh 75,000 for the venue, exclusive of the food.
"Many Kenyans are marrying late in life when they are established in careers that afford them a disposable income which they can use to finance the kind of wedding they want," a section of the report revealed.
Businessman Jared Otieno made headlines a few years ago when he landed in Meru with choppers and high-end cars to pay a Ksh15 million dowry for his girlfriend Kendi Mwiti, with sources indicating he spent almost double the amount during their wedding that was held at Windsor Golf & County Club.
Wilson Mutura and Ann Mutura hold the record for the cheapest wedding in Kenya as they got hitched on a Ksh 100 budget.
The couple made the headlines
after their unique low-cost wedding went viral back in 2017.
And...In more News...
Nairobi Governor Mike Sonko's daughter,
Saumu Mbuvi
has borrowed a leaf from her father and ventured into a business cherished by their family.
Saumu founded her own company which sells real estate properties just like Sonko did before he got into elective politics.
Saumu runs the business with
her husband, Lamu Senator, Anwar Loitiptip
who is the CEO.
According to her company's online profile, she specialises in selling beach properties which range at between Ksh 8 million and Ksh 30 Million.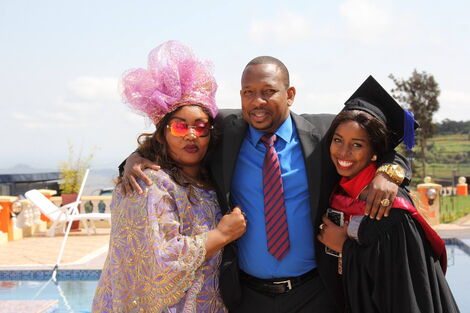 Sonko (Centre) strikes a pose with his daughter Saumu Mbuvi (Left) and granddaughter Sasha during his birthday party on March 4, 2020.
(Above is Sonko (center), his wife Primrose Mbuvi (right) and daughter Saumu during her graduation in June 2018 )
The company has plots and houses in Lamu, Malindi, Diani and Mombasa towns along the Indian Ocean.
Some of the properties include a 5-bedroom mansion by the ocean whose price is listed as Ksh 29 million and a villa going for Ksh 30 million.
Sonko used to be a land and property dealer based at the Coast. Through the business, the governor
made his first Ksh 1 million.
He also bought two beach houses for himself in Watamu and Diani. However, he sold the properties later on before he was voted Nairobi Governor.
Sonko had previously worked as a manager in the sales and marketing department of his father's company.
The late Mzee Kivanguli was a shrewd property dealer in land and beach plots in the Coast, selling properties to European investors.
After the lands and property business, Sonko relocated to Nairobi where he invested in the transport industry. He bought and managed matatus which made him a household name in the county.