rosewell incident.
in summer of 1946,a farmer discovered some debris in a plain field in rose-well.what follows was a twist of events,the 1st few people who visited testified of seeing and i quote"strange beings in metallic clothing's"
the markings that were found on the bars were also strange and had no meanings in air-force or in metro-logical department.
Battle of Los Angeles
a night in los Angeles is was interrupted after an ufo was seen hovering over the city ,the military was involved and shooting ensued.until today no logical explanation has ever been offered by the government

crop signs
strange signs have
been reported in many parts of us....the only logical explanation given was that 2 old men were making those formation using rollers

mutilated cattle
imagine waking up early in the morning just to find you cow had a surgery last night...well, thats what the truth in colorado.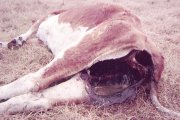 the above might be the truth that aliens exist,but alien existence is still debatable
Last edited: